Join us for a variety of reading programs for teens and kids!
Hello Readers!
Our Oceans of Possibilities summer reading program will run for 8 weeks, from June 12th - August 6th. This year we will be running summer reading program for three different groups. Children who do most of their reading with an adult will track the days spent reading together on a calendar. Children who do most reading independently will track the titles of the books they read. Children can register for one reading program. Middle and High School students will have reading challenges to complete.
Kick Off Summer
Join Tricia in the garden to register for Oceans of Possibilities Summer Reading Program.  While you are there, make a sand art necklace and cool off with a popsicle.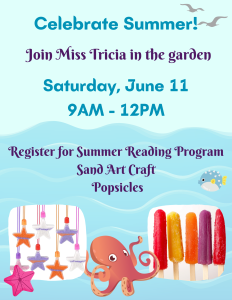 Reading with Adults: Reading Calendars
Place a sticker on each day you read 20+ minutes. Earn 20 stickers and answer a question on the back, and you can turn in your calendar for a prize!
First calendar runs June 12th - July 9th. 20 stickers = a free OG bun or cookie of your choice from Haymaker Buns.
Second calendar runs July 10th - August 6th. 20 stickers = a t-shirt and invitation to our library tie-dye program.
Reading Independently: Reading Logs
Keep track of the books you read on your reading logs. Fill out a card with your titles when you visit the library. When you read five books you can turn in your card for an OG bun or Cookie. Fill out a second card with five more titles and get another OG bun or cookie. Fill out another card with five more titles (15 titles total), and receive a t-shirt and invitation to our library tie-dye program.
Books 1 – 5 and again for books 6 - 10 = a free OG bun or cookie of your choice from Haymaker Buns.
Books 11 - 15 = a t-shirt and invitation to our library tie-dye program.
Regular Programming June 20th - August 13th
Thursday 12:15pm: Book Bike Storytime and Book Giveaway between town pool and hockey rink. Storytime for K and up.
Summer Moviemaking Camps
Intro to Filmmaking
Tuesday-Friday, 6/28-7/1, 9:00 AM to Noon
Open to grades 4+, no experience necessary. Join Ilsley's Technology Coordinator, Kurt Broderson (also the director of MCTV), and learn to use cameras, tripods, and editing software to create short scenes and movies.
Stop Motion Animation
Tuesday-Friday, 7/5-7/8, 9:00 AM to Noon
We're doing this camp a bit different this year, as we will be collaboratively recreating a scene from Star Wars: A New Hope as part of the Crowdsourced Cinema VT remake of the Hollywood blockbuster. You can sign up solo, or with members of your family. Each individual or family will learn how to animate, and help recreate the scene.
Female Filmmakers
Tuesday-Friday, 8/9-8/12, 9:00 AM to Noon
This camp is open to female-identifying students in grades 4+. Come learn the basics of filmmaking in a supportive group environment, or more advanced tricks with your peers if you have already taken a camp with us.
To register for Moviemaking Summer Camps, visit: https://www.ilsleypubliclibrary.org/kids-programs/kids-programs-descriptions/
Take and Make Bags: Craft and activity bags will be put out in the children's room on Saturdays. Quantities are limited - FCFS. Sewing kits will be available at our Stitch in Time sewing group. Remaining kits will be available in the children's room on Tuesdays. Information on the specific bags will be available in our monthly newsletter and online.
Get in on the fun and create a CD weaving piece to contribute to the Community Collaborative Weaving Art Project. Take and Make kits will be available through most of the summer.
Thank you to the Friends of Ilsley Public Library and Haymaker Buns for sponsoring our summer reading program, to Kris Andrews for putting together our sewing take-and-make bags, and to Marbleworks and the residents of Harrow Way for hosting our Books on Sticks.
We look forward to reading with you this summer!
HOW IT WORKS:
Our Oceans of Possibilities Teen Summer Reading Program will run for 8 weeks, from June 12th-August 6th. There are three ways to participate:
• BINGO CARDS
Teens can either visit Ilsley and pick up a Summer Reading Folder or download a Summer Reading BINGO card from our website. Teen participants will be asked to complete a variety of challenges on the BINGO card. Once a teen completes a BINGO (a "BINGO" is a line down, line across, or a line diagonal across) they are eligible for $5.00 in Middlebury Money.
• WE READ BANNED BOOKS CHALLENGE
Harry Potter, The Hate U Give, and The Graveyard Book. What do these titles have in common? Across the country, all three have been targeted for removal or restriction in libraries and schools. And sadly, they're not alone. Celebrate the freedom to read by participating in our We Read Banned Book challenge. Over the course of the summer, read 5 of the banned books listed on the card and get invited to our We Read Banned Books t-shirt and ice cream party on Saturday, August 20th at 2PM.
• OR you can participate in both programs! Over the course of the summer, teens can win 1 of each prizes.
TEEN PROGRAMMING JUNE 24TH-AUGUST 12TH
Every Friday from June 24th-August 12th, Ilsley will be hosting Teen events.
Banned Book Club
Celebrate the freedom to read by joining our Banned Book Club. Over the course of the summer, we will be hosting three book discussions, each focusing on a different banned book. Free copies of the selected titles will be provided two weeks prior to each discussion. Each book discussed will count toward the We Read Banned Books challenge.
Friday, July 1st: Melissa by Alex Gino
Friday, July 22nd: Maus I: A Survivor's Tale: My Father Bleeds History by Art Spiegelman
Friday, August 12th: The Hunger Games by Suzanne Collins
Ilsley After-Hours Teen Lounge
Friday, July 15th
Friday, August 5th
Have you ever dreamed of visiting the library after it has closed? Well, now is your chance. Grab your friends & come enjoy the library after-dark. Snacks, games, movies, wi-fi, music, and more!
Teen Drop-In Craft Nights
Come 5-6pm to try your hand at a different, exciting craft. Can't make it? No worries! After the event, extra kits will be available in the Teen Room while supplies last.
June 24th: Bad Art Night
July 8th: Giant Marshmallow Launcher
July 29th: Painted Rock Photo Holders