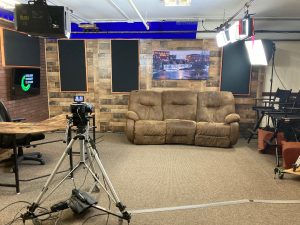 Middlebury Community Television is not just a tenant on the 3rd floor of
the Ilsley Public Library, but a partner in advancing media literacy,
documenting our community's stories, and supporting everyone's freedom
of expression. MCTV's studio is on the 3rd floor of the Ilsley Public
Library, where we film talk shows on set, but we film meetings, sports,
and cultural events throughout the local community.
We also provide equipment, training and air time for anyone interested in
telling their stories through video. We provide media training and support
both in the studio and in the Digital Media Lab, as well as run after
school programs and summer camps for youth, for free, in partnership
with Ilsley. We broadcast on Comcast Channels 1071 and 1091,
and all of our programming can be found on our website:
www.middleburycommunitytv.org. Call for more info: 388-3062.
Stop in the studio for a tour, or to have your own show!